Acolades
In 2017 received its seventeeth AAA "Four Diamond Award" places itself among a very select small group of only eighteen Ohio lodgings (including Ritz Carlton) to receive the distinguished award (only about 4.8% of all lodgings evaluated by AAA received the Four Diamond Award ).
Recognized as a premier bed and breakfast, the Georgian Manor Inn was featured on the cover page of the Nov. 19, 2006 "Columbus Dispatch" Travel section. Written by Dispatch travel writer Steve Stephens, the page and half article titled "Immaculate manor" - "Elegant Norwalk inn serves as base to visit Lake Erie sites or enjoy quiet getaway" has large color photos of the inn with Steve's write up about the property and the Norwalk area.
In addition, the Georgian Manor Inn has been featured on the cover page of August 2002 "Ohio Magazine" and in its article "Garden Getaways".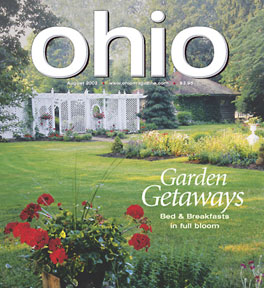 Also featured live on Channel 5 TV's "Good Morning Cleveland"
Featured in the February 1999 issue of "Ohio Magazine" - "Winter Retreats".
Rated at the top with 5 stars in "the Unofficial Guide to Bed & Breakfasts and Country Inns in the Great Lakes States".